Sick in Thailand – What to do in the event of an accident, injury or illness? We give you useful tips and behavioral advice.
emergency numbers
:
191 ALL emergencies
077 37 71 14 Police station
1155 Tourist Police (077 43 00 18)
1719 Ambulance Bangkok Hospital
Abrasions, cuts & Co.
The fact that you slip off where, step on or cut yourself happens quickly. In our home countries we would pay no attention to a small scratch, but in the tropical humid climate one should do that. It is advisable to clean and disinfect even small wounds as quickly as possible.
Almost everywhere you can get these small Betadine bottles as shown in the picture below, which fit in every pocket. Treat your injuries with it morning and evening, that's enough. It is better to tape wounds on your feet for the first few days when you go out of the house.
Is the wound deeper?, for example a cut from a shard of glass, or a deep scratch from a rusty nail, we would really like to advise you to at least do it professionally cleaned once allow. You can go to any nursing station, clinic or doctor.
Do you get acquainted with one sea ​​urchinso you should remove or remove the tips that are stuck in your skin, and thoroughly clean and disinfect the puncture sites. It stays discord Sticking spikes, discord!
Important: If a wound, no matter how small or large, begins to fester, heat and smell evil, that is IMMINENT DANGER! You have to go to a hospital right now, on the spot. Because then your wound has become infected with bacteria, which can happen within a few days. IF YOU ARE AWARE, YOU RISK AN AMPUTATION, OR EVEN YOUR LIFE!
The left photo shows the injury on first day, really does not look like anything special. The pictures on the right show the size of the infection Fourth day, In the case of the young woman, the situation was so serious that it was actually necessary to talk about a possible amputation. Luckily it did not come to the worst!
The Koh Phangan Tattoo - a dubious celebrity
For those of you who do not know yet, Koh Phangan tattoo, quite charmlessly, is the name given to the extensive abrasions after an accident with a scooter.
If that happens to you, your vacation is over, because your injuries are bandaged and you are not allowed to go into the sun and especially not into the water.
Even if nothing else has happened to you, these huge, filthy abrasions need to be handled with care.
The Government Hospital Koh Phangan is far cheaper than the private hospitals and clinics, and with abrasions they know their way around. You can then do the daily cleaning and dressing changes yourself if you feel comfortable with it.
The various pharmacies have all materials for wound care in the range and can also advise you.
Particularly competent help and reasonable prices are offered by the pharmacy next to the Bangkok Bank in Thong Sala (open on weekdays from 17:00 p.m. to 21:00 p.m., on weekends from 9:00 a.m. to 21:00 p.m.) and the First Pharma, also in Thongsala.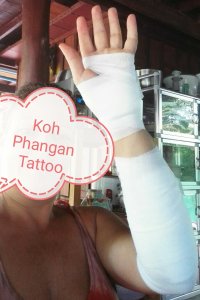 Important
: Are you involved in a traffic accident with other people, we strongly advise both the
POLICE
(077 37 71 14), as well as the
TOURIST POLICE
(077 43 00 18).
Always stay calm and polite, especially when talking to Thais. Rumping and shouting will not get you anywhere in Thailand!
Also interesting:
Street dogs - to 98% friendly fellows
It is very rare for a dog to bite you. Again, there is no way around professional help over. The mouth of dogs (and even cats) is full of bacteria and you not only have to clean the deep bites, but you may also have to clean one Tetanus and / or rabies vaccination miss.
(However, there has not been a rabies case on Phangan since 2008).
Again, you can go to any outpatient department, clinic or to any doctor and take the daily follow-up yourself, if you believe it.
Also interesting:
PACS - Phangan Animal Care for Strays
Do not get sick first - recommended vaccinations
Vaccinations against tetanus, diphtheria, hepatitis A and rabies will be provided by tropical Institute generally recommended for all travelers to Thailand. Children should be vaccinated against measles.
The Longstays or travel in rural areas The recommendations are supplemented to include hepatitis B, typhoid and poliomyelitis. Anyone who travels away from tourist areas from May to October can also be vaccinated against Japanese encephalitis.
Thailand is considered Malarialand with low risk, Whether a Malaria prophylaxis is indicated you should discuss individually with your doctor.
Who from a designated Yellow fever Country If you want to enter Thailand, you have to prove that you have an upright yellow fever vaccination certificate.
These countries currently include:
Angola - Equatorial Guinea - Argentina - Ethiopia - Benin - Bolivia - Brazil - Burkina Faso - Burundi - Ecuador - Ivory Coast - French Guiana - Gabon - Gambia - Ghana - Guinea - Guinea-Bissau - Guyana - Cameroon - Kenya - Colombia - Congo, Republic - Congo, Democratic Republic - Liberia - Mali - Mauritania - Niger - Nigeria - Panama - Paraguay - Peru - Rwanda - Senegal - Sierra Leone - Sudan - Suriname - Togo - Trinidad & Tobago - Chad - Uganda - Venezuela - Central African Republic
dengue fever is widespread throughout Southeast Asia. The carriers are the diurnal tiger mosquitoes. Anti-mosquito sprays and mosquito nets provide effective protection. Smoke coils are also very effective against mosquitoes, but you should definitely avoid inhaling the smoke! There has been a live vaccine against dengue fever since March 2023. Generally there is a mosquito alarm for two hours at dawn and two hours at dusk.
Also interesting:
Gastrointestinal disorders - a common evil
Our western stomachs sometimes react a little sensitively to unfamiliar food. Fresh coconuts are a treat, but you shouldn't eat more than three a day because they have a laxative effect. Curry dishes with coconut milk, as well as chili and exotic herbs, can be hard on the stomach. However, such upsets usually go away after a day or two.
To avoid intestinal infections you should Drinking water for brushing your teeth or use boiled water. Pay attention to the warm, humid climate of southern Thailand Hand hygiene. As our mothers always said: "Don't forget to wash your hands before eating." Please don't use used towels to dry them either!
Sick in Thailand – If it does happen
Giving advice in the event of illness is difficult. In the end, everyone has to decide for themselves whether they want/need to see a doctor or not.
If you have classic problems such as colds or stomach/intestinal problems, or if you would like a specific medication, please contact one of the pharmacies with confidence. If it's more than that and you know what you have, or you don't have to explain yourself at length, you can go to any hospital and doctor of your choice. For example to the Government Hospital Koh Phangan, or to Dr. Woravut in Thong Sala.
If you have strange symptoms or feel unsettled, go to one of the private hospitals, such as Bangkok Hospital, First Western or Blue Cross.
A travel health insurance pays off
At this point we really want to make you one travel insurance
guess. Nine times you may not need them ten times, but for this one time, when something happens, you can not beat the insurance with gold. A longer hospital stay, or even an operation are not cheap in Thailand. Having insurance protects your nerves and your wallet equally.
There are many providers and different service catalogs. First, the insurance must of course be valid in Thailand, accidents should be insured. Not to be underestimated is also the service point return transport. Flights must be canceled and / or rebooked, your residency permit must be extended, and you may need medical escorts. That goes right into the money! But apart from that, you just want to go home if it has hit you hard.
Our recommendation: International Travel Insurance from Allianz Travel, complete online here
.
emergency numbers
:
191 ALL emergencies
077 37 71 14 Police station
1155 Tourist Police (077 43 00 18)
1719 Ambulance Bangkok Hospital
Stay healthy, drive carefully and have fun!