Known as the party island of Southeast Asia, especially by the world-famous Fullmoon party, there are many other nightlife locations worth seeing on Koh Phangan. The Party life on Koh Phangan is extensive and diverse. From excessive techno partiesTo cozy lounge sessions by the pool or loud rock music everything is there. But as in other areas of life, you should know what to expect and be prepared accordingly. Highly fluctuating prices for taxis, dangerous scooter trips back and forth from the party, bad alcohol and other aggravating circumstances should be noted. 😉
Full Moon Party
Let's start with the most famous party on the island, the Full Moon Party. Every four weeks, when the full moon illuminates the island in the night sky, madness also awakens. Up to 30.000 visitors come to the High Season to the otherwise very popular Haad Rin Nok beach in the southeast of the island. Although always something else in the Party Zone Haad Rin is going on, surpasses all of this. Drum and bass, dubstep, minimal or house can be found on this one beach. There is even a small reggae bar on the beach from which you can watch the hustle and bustle of the party very well. But especially at this party, be careful with your belongings and drinks. It happens again and again that buckets (drinking buckets) are filled with drugs. To avoid this, it's best to only buy closed drinks or take a closer look at what people are filling your bucket or drink.
The entrance fee for the Full Moon Party is 100 THB. The tickets are only available on site!
Book your arrival here:
The taxi prices per person to Haad Rin:
From Ban Tai: 100 THB
By Thong Sala: 150-200 THB
From Hin King and Sri Thanu: 200 THB
By Had Yao, Haad Salad and Chaloklum: 250- 350THB
The prices are always negotiable and represent an average value. Of course, it can also happen that one or the other taxi driver demands a little more. Basically, if you want to drive cheaply, you should be nice and polite!
Full Moon Party dates
You will always find out when the Full Moon Party takes place here.
But only Moon Party would be boring. In the Party Zone Ban Tai and Haad Rin there are nightlife events almost daily.
This includes the second largest event Half Moon festival. You can really have fun there in the middle of the jungle, surrounded by palm trees. With international DJs, there's a lot on offer here in three different areas and musically everything from psytrance to hip hop to house is covered. The entry price varies depending on the season and package.
Jungle Experience
There are other parties to mention as part of the Moon Parties. the Jungle Experience is one of the really big events and always takes place the day before the Full Moon Party.
Waterfall Party
Another major event is the Waterfall Party (called "Cult" for a short time, formerly Sramanora Waterfall Party), which usually takes place three days before Full Moon.
Just like the Full Moon Party, these events are sometimes postponed by a day or two due to "Buddha Days", when alcohol is prohibited.
Black Moon Culture
⚠️ Not taking place at the moment!
The Black Moon Party can be described in three words: Peace, Trance, Dance.
The party takes place monthly either on the beach or in the jungle. Local and international DJs play progressive and psychodelic trance. Surrounded by an unbelievably beautiful, lovingly and lavishly designed gora decoration, the party-hungry really gets going. The entrance fee is usually 600THB and the taxi prices are roughly the same as for the Half Moon Party.
Shiva Moon Koh Phangan
⚠️ Not taking place at the moment!
The Shiva Moon Party is also in Ban Tai and is somewhat hidden in the jungle. The party takes place in a large garden full of colorful decorations, which are made even more effective by the psy-trance music. You can dance and chill on three different levels and the garden is large enough that there is plenty of space to dance even when there is a lot of people. Admission is 500THB, before 11am the Shivamoon Party is even free.
Taxi prices per person
From Ban Tai: 100 THB
From Haad Rin: 100-150 THB
By Thong Sala: 150-200 THB
From Hin King and Sri Thanu: 200 THB
By Had Yao, Haad Salad and Chaloklum: 250- 350THB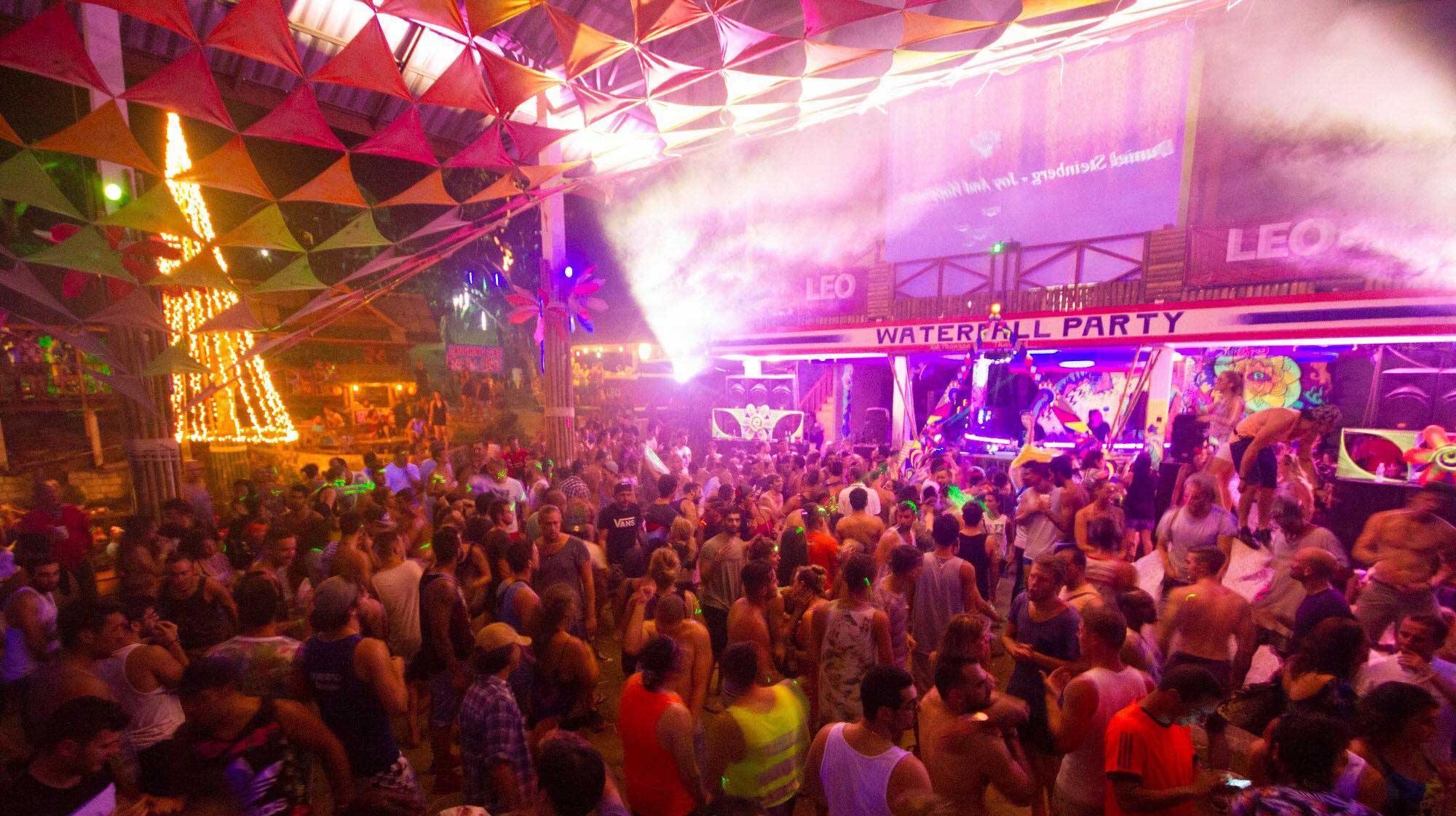 It continues with very special parties on the island. In the east of the island, only by a ride with the taxi boat or a jeep through the deepest jungle of Phangan, there is the opportunity for a real party exodus. Four different parties take place from Thursday night to Sunday.
It starts on Thursday Lost Paradise in Haad Yao East until Friday evening. This is what follows Guy's bar Party on Friday Haad Tien Beach. (Reopening on December 1st, 2023 in a new location!)
It continues on Saturday with the Eden party in Haad Yuan. The Eden Garden is a platform built on rocks where the island's most beautiful sunrises can be observed. This combined with good music, friends and a good mood creates the mix for a moment that will last a lifetime. Sunday morning follows Bamboo Hats, also in Haad Yuan.
You have the option of arriving by taxi boat (usually from Haad Rin) or with a 4×4 pickup waiting in front of 711 Ban Tai. For those who need some peace and quiet between parties, there are bungalows for rent in the area.
Some of the events on the east coast close in the off-season. You can find out what is currently taking place in our separate Event guide.
Other events on the west coast
Another party destination worth mentioning is the Samsara Beachclub (formerly Merkabar Beach Club) in Ban Kai, between Ban Tai and Haad Rin. Unfortunately, parties don't take place there regularly, which makes the events here even more special. On four different levels you can dance, enjoy drinks, lie on the beach, swim in the pool or sea, rest on loungers and chairs and watch the action. If you had to describe the bar in one word, you would probably think of "fancy", "chic" or just "paradise". On top of that, for the events often international top acts get booked. Markus Meinhart, Ron Costa, Marcotix or the Thai version of Sven Väth, Nakadia, to name just a few.
On the Baan Tai main road there is also the largest party hostel on the island Phangan arena and Chill up with several events per week. x
Shortly before Haad Rin you will find it OXA Beach Party, which always takes place on Wednesdays and a few days before the full moon.
If that is too boring for you and you want to make music yourself, you will feel on the many Jam and live sessions on Koh Phangan sure well. These can all be found a little further north than the party life.
The jam on the way to Chaloklam opens on Thursdays and Sundays.
A variety of musicians from different corners of the world come together to make music together. Rock, jazz, blues, reggae, everything your heart desires.

There is live music on Friday Rasta Home in Had Yao . Phangan Rock Place in Maduawan organizes this several times a year rock fest, a small but nice rock festival.
So you see, there are tons of different bars and clubs on Koh Phangan that really have something to offer for everyone!
More articles about party:
What is Songkran? Songkran is the most important festival in Thailand! On the days from April 13th to 15th, the New Year is celebrated according to the Thai calendar. The word Songkran - วัน สงกรานต์ - comes from Sanskrit and means "movement / change of the sun from ...
read more