The rainy season is almost upon us, what can be done on Koh Phangan? A trip to one of the waterfalls is certainly a good idea!
There are 10 waterfalls on Koh Phangan, Actually, there are even a few more, but not all can be reached or not all regularly water.
The Namtok Phaeng is located in Maduawan and is very easy to reach. From Thongsala Coming from you follow the big road through the interior, the after Chaloklam leads. The road makes a left turn after some time, but you do not follow and instead go straight. A sign shows the way to the Phaeng waterfall.
At the moment, i.e. in June / July, only a little water runs down the mountain and most of the "bathing pools" are not filled enough to cool off in. A little above is the Than Naam Rak waterfall, which is usually supplied with water earlier, so the path is worthwhile if necessary. While the path to Phaeng Waterfall is very easy to navigate, the Namtok Than Naam Rak only has a jungle path.
In the rainy season and later, in the main season, there are two large and very beautiful waterfalls that run over several terraces down to the valley.
But even without water can be worth the way to Nam Tok Phaeng, because from there you reach, also over a short jungle trek, also a lookout point with stunning views over Koh Phangan and view of Koh Samui: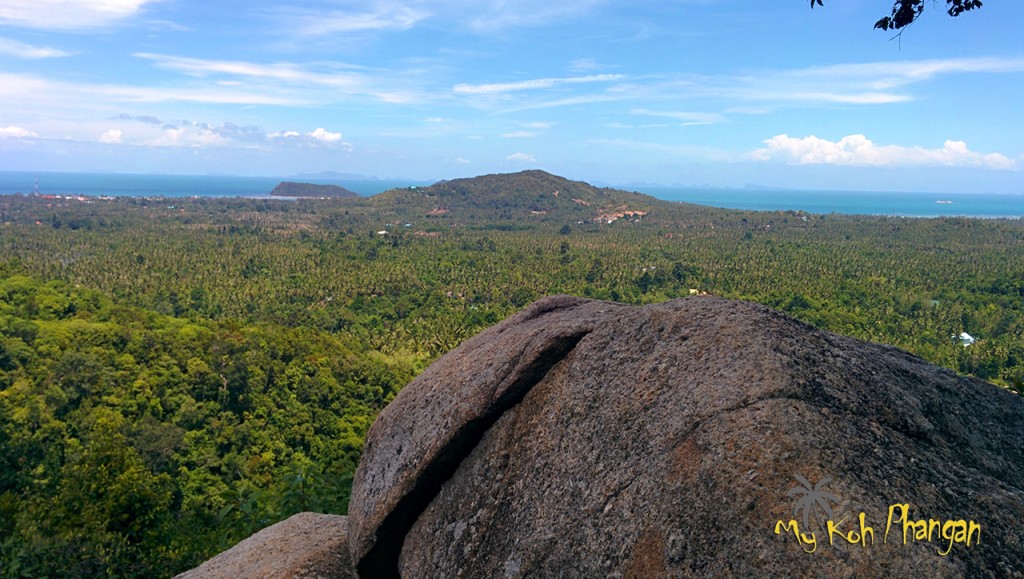 Who the longer and arduous way to the Khao Raa (Koh Phangan highest mountain) shy, here has a comparable view.
Even if the path to the viewpoint or the upper waterfall is not particularly demanding, you are still moving through "real jungle" and can therefore encounter scorpions, centipedes and other forest creatures. If you're afraid of it, you should bring sturdy shoes, but the path itself doesn't necessarily require it.
At the foot of the waterfall are some information boards, a camping opportunity and a supermarket / restaurant. In the immediate vicinity you will also find an "Adventure Park" with elephants and other attractions.
Conclusion: The Phaeng Waterfall is one of the largest and most beautiful waterfalls on the island. In combination with the nearby viewpoint, it is definitely worth a trip! (Pictures of the actual waterfall will follow in the rainy season ...!)
Waterfalls Koh Phangan
Thai Life Falls
Than Pradet waterfall
Wangthong waterfall
Than Sadet waterfalls
Than Prapat waterfall
Sramanora waterfall
Wang Mai Daeng waterfall
Ta Lahm waterfall
Paradise Falls
The location of the falls (= Nam Tok) can be seen on the following map: