Essen is an important cultural matter. Essen is gregarious and social, it connects and promotes the community. Essen brings people together at one table on a wide variety of occasions. In a country where one asks to greet "hast du schon gegessen", Eating, and therefore cooking, is even more important than anywhere else.
Thai cookbooks have only been around for 110 years
Thai cookbooks are actually a relatively young phenomenon, the first cookbook was only just becoming 1908 by Lady Plian Phasakorawong, under the title Mae Khrua Hua Pa (or "Talented Women Chefs") published. Until then, prescriptions were passed on orally and mostly only within the families. The Recipes were jealously guardedbecause extended families competed equally in culture, wealth and prestigious titles. The old cremation books are still a source of inspiration for cooks who specialize in Asian cuisine. But let's start at the beginning ...
The history of the funeral books
As with many traditions, the exact background is not entirely clear. Historians believe that the books come from this tragedy resulted from:
One of King Chulalongkorn Rama V's wives, the pregnant woman Queen Sunandha Kumariratana, was 1881 with her daughter in the royal boat on the Chao Phraya River on the way to the Summer Palace when it collided with a steamship and then capsized. There are different options for the rest of the process, but none of them ended well. For one thing, you were allowed to old law According to members of the royal family do not touch, and thus do not save. On the other hand there was that Superstitionthat someone who saves a drowning person angered the water spirits and was later fetched by them as a replacement. However, it is also from one unsuccessful rescue attempt reported by the crew. Whatever it may have been both women drowned in the river.
The king was deeply shaken with grief over the loss of his wife, daughter and his unborn son, and called to one of them ornate funeral as it has never been before. In memory he left 10.000 copies of the cremation book to press. This is said to have been the hour of birth of the "Nangsu Anuson Ngansop", the memorial books on burials.
According to historical evidence, it was the custom before this event Small gifts to be distributed at funerals and there have already been short manuscripts who paid attention to the life of the deceased. When 1835 the Printing press found its way into Thailand, these manuscripts occasionally became larger, jogged writings.
How the recipes got into the cremation books
These often elaborately designed books dealt with the life of the deceased. It was a species Biography, titles, deeds and achievements were listed, texts of Buddhist philosophy were inserted and Family photos and photos with well-known personalities printed.
Initially, these more or less novel burial books were mainly found in the well-heeled nobility benevolent response. In Asian cultures, outward representation is particularly important, and so it came about that the nobility put themselves beyond measure in the books self-staged and one family tried to stand out more than the other.
King Rama V found that right with time langweilig. In the year 1904 he proclaimed that "reading these books is just plain unpleasant," and urged people to use more wit, fables and fiction. So then kept anecdotes from life, texts from Favorite songs, Descriptions of Favorite places and also Favorite foods the deceased's entry into the cremation books.
Also interesting
By the way, King Rama V was a very remarkable man. Find out in our article "Chulalongkorn Memorial Day" more about him.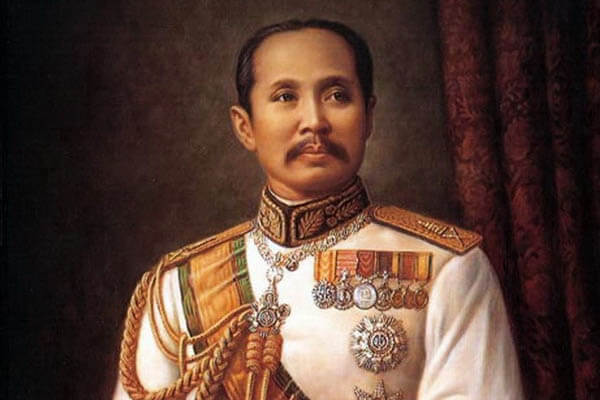 Essen
became more and more important in the funeral books because one was proud of one's traditions. Especially in the
Books by women
Recipes found their way, because at that time women worked almost exclusively in the household. Families bordered each other through individual peculiarities and
Recipes handed down over generations
apart from others when eating.
The known Massaman curry comes, for example, from one of the many funeral books of the Bunnag family dynasty, one of the great houses of ancient Siam.
The Persian Merchant Sheikh Ahmad kam 1600 into the kingdom and entered the service of King Songtham, there he made it to the office of "Samuha Nayok", des First Prime Minister. Many of his descendants also held this office. There are even more Persian-inspired dishes in this family's books.
Although the massaman curry is one of the most popular and well-known Thai dishes worldwide, many Thais still call it "fremd"Classified because it comes with a mix dried herbs prepared while the traditional Thai curries are exclusively based on fresh herbs based.
Thai cuisine on the international stage
The Australian Chef David Thompson is the proud owner of more than 600 Thai funeral (cook) books. He is still considered today THE luminary as far as Thai cuisine is concerned.
Be most famous work with the simple title "Thai Food" is not only a cookbook, it also deals extensively with culture and geography, tribal structures and family constellations and with European influences on Thai cuisine. He devotes around 20 pages to rice alone.
This book doesn't just make them special Dedication with which it was written, but also and above all the Indication of alternative ingredientsthat you can absolutely trust. You don't get everything you need for a curry or a soup in the Asia market. For example, for a soup made from fresh tamarind leaves, he recommends replacing it with sorrel.
We found this masterpiece on Thai cuisine here:
In the English original - new
In the German translation - used
Cremation Books Today
They still exist, but steadily rising raw material and production costs let them Quantity of the new funeral books sinken. You also move with the times, and this is often the case today Ceremony filmed and sent to the guests via a link.
The Thai cuisine was always on the move, has changed and developed, and still does today. The funeral (cook) books still make a major contribution to this. Cooks, in particular, are interested in their ancestors' recipes and develop them with great care modern, culinary Interpretations ofwhich they then have in turn printed in their own cremation books.
This photo is from Book Expo Thailand 2020:
Also interesting
We have in our article "Thaifood Recipes - The special thing about Thai food"Collected a few favorite recipes.
Quote from David Thompson:
"Thai cuisine requires the chef's attention, demands time and effort, and requires repeatedly practiced skills, but it rewards it with sensational flavors."