Haad KhomAlso called Coral Bay, is a small bay in northwest Koh Phangan, in close proximity to Chaloklam. The sea plays all colors here and you can swim well. Occasionally corals grow into the bay, but you can easily bypass them on the sandy underwater paths. The beach is particularly popular with long-term vacationers who appreciate the relaxed, quiet atmosphere. It is important to know that Haad Khom does not have 24 hours of electricity. This is where the monkeys come down from the jungle and rumble in the trees. Feeding is strictly forbidden, because in a short time it would no longer be a joy but a real nuisance. No way you should Dukdik, miss the pig! She resides, fat and lazy, in the Coral Bar and sometimes goes swimming in the sea - sometimes with shark fins on the back.
Accommodation in Had Khom
The Ocean View Beach Resort is visually a true island space. The different bungalows are spacious, fragrant, bright and clean. Bowie, the owner, is always ready to make your stay as nice and enjoyable as possible.
It is also noble in the Coral Bay: One of the most exclusive Beach Villas is here for a night or longer to rent.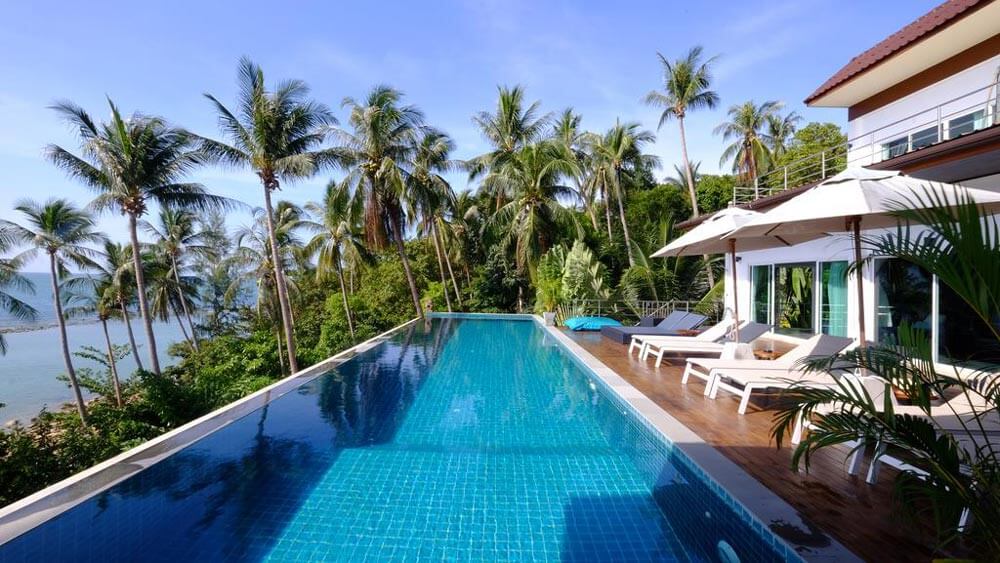 Activities in Haad Khom
Had Khom is at snorkelers popular, as there is a variety of marine life to discover in the bay. You can rent a kayak and go exploring. The eponymous reef of the bay is intact and is also used by the Diving Schools in Chaloklam and hit Maehad for snorkeling trips. At the end of the road, a path through the jungle leads to Bottle Beach, just follow the bottles. Allow at least two hours to walk and take enough water with you. For the way back, you might better take a taxi boat, because it gets dark and early on Koh Phangen. From here, it is worth taking a day trip by boat to Tong Nai Pan or Thansadet.
Restaurants and bars in Haad Khom
There are only four restaurants on the beach and the Coral Bar is open ... as long as it is open. The Ocean View has a slightly more exclusive menu, at Haad Khom bungalows is certified organic and cooked without flavor enhancers and in the Coral Bay Restaurant You will find a good, very tasty selection of classic dishes.
Travel
From Thong Sala take the Police Road and follow the signs to Chaloklum. There you turn left to Haad Khom. Follow the road, even if you think you're wrong, until you see the signpost for Coral Bay Bungalows on the right. There you turn, then you have to park and go down the last piece on foot. Please pay attention to the last part of the way especially on the road, the opposite lane abruptly breaks off.
Also interesting:
Exchange yourself in our Facebook group with other Koh Phangan travelers and benefit from the tips of the German-speaking emigrant community on Koh Phangan.
🔻Click on the picture and go directly to the group🔻
Haad Khom / Coral Bay pictures